South America
Cerdocyon thous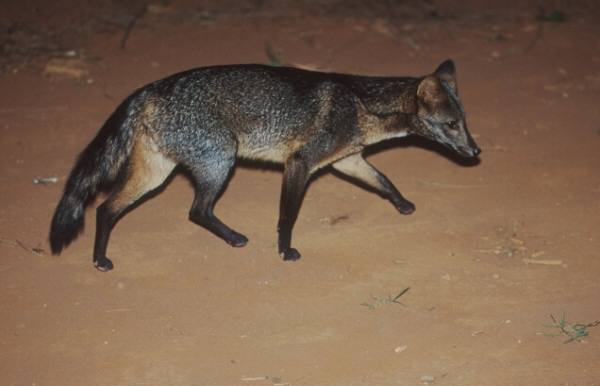 Crab-eating Fox - © Adriano Gambarini
Amazonian Canids Working Group - Amazonian canids include: The Short-eared dog, Atelocynus microtis, The Crab-eating fox, Cerdocyon thous, The Bush Dog, Speothos venaticus and the Hoary fox, Pseudalopex vetulus. Other Pseudalopex species that occur at the edges of the Amazon region are also considered by the working group since they need additional research. Photo: Pampas fox
ProjectsRelevant LinksReports / PapersOther Names
English: Crab-eating Fox, Crab-eating Zorro, Savannah Fox, Common Zorro
Spanish: Zorro, Perro De Monte, Perro Sabanero, Perro-zorro, Zorra Baya, Zorro Cangrejero, Zorro Carbonero, Zorro Común, Zorro De Monte, Zorro-lobo, Zorro Patas Negras, Zorro-perro, Zorro Perruno, Zorro Sabanero
French: Chien Des Bois, Renard Crabier

The species is relatively common throughout its range from the coastal and montane regions in northern Colombia and Venezuela, south to the province of Entre Ríos, Argentina (35ºS); and from the eastern Andean foothills (up to 2,000 m) in Bolivia and Argentina (67ºW) to the Atlantic forests of east Brazil to the western coast of Colombia (1ºN). Its known central distribution in lowland Amazon forest is limited to areas north-east of the Rio Amazon and Rio Negro (2ºS, 61ºW), south-east of the Rio Amazon and Rio Araguaia (2ºS, 51ºW), and south of Rio Beni, Bolivia (11ºS).

Few records exist in Suriname and Guyana. Recent records in French Guyana (Hansen and Richard-Hansen 2000) have yet to be confirmed (F. Catzeflis pers. comm.). The previous citation of its occurrence in Peru (Pacheco et al. 1995) has since been retracted by the authors (D. Cossios pers. comm.).
Population trend:Stable
(Click on map for more detail)
Habitat and Ecology:
Occupies most habitats including marshland, savanna, cerrado, caatinga, chaco-cerrado-caatinga transitions, scrubland, woodlands, dry and semi-deciduous forests, gallery forest, Atlantic forest, Araucaria forest, isolated savanna within lowland Amazon forest, and montane forest. Records up to 3,000 m. Readily adapts to deforestation, agricultural and horticultural development (e.g., sugarcane, eucalyptus, melon, pineapples) and habitats in regeneration. In the arid Chaco regions of Bolivia, Paraguay, and Argentina, confined to woodland edge; more open areas used by the Pampas Fox.

Vegetative habitats generally utilized in proportion to abundance, varying with social status and climatic season. Radio-tagged foxes in seasonally flooded savannas of Marajó, Brazil, predominated in wooded savanna (34%) and regeneration scrub (31%); low-lying savanna was "avoided", and areas of wooded savanna "preferred", more by senior than junior foxes and more in the wet season than dry season (Macdonald and Courtenay 1996). In the central llanos of Venezuela, fox home ranges similarly shift to higher ground in response to seasonal flooding, though are generally located in open palm savanna (68% of sightings) and closed habitats (shrub, woodlands, deciduous forest, 32%) (Brady 1979; Sunquist et al. 1989). In Minas Gerais, Brazil, two radio-tagged foxes (one male, one female) in different territories were observed most often at the interface of livestock pasture and gallery forest ("vereidas") (82%) and in eucalyptus/agricultural plantations (8%) (O. Courtenay, unpubl.). Eighty-eight Crab-eating Fox specimens collected by the Smithsonian Venezuelan Project were taken from prairie and pasture (49%), deciduous and thorn forest (19%), evergreen forest (17%), and marshes, croplands and gardens (15%) (Handley 1976 as cited in Cordero-Rodríguez and Nassar 1999).
Major Threats:
The main potential threat is from spill-over pathogenic infection from domestic dogs. In the Serra da Canastra National Park, Brazil, Crab-eating Foxes raid human refuse dumps in close company with unvaccinated domestic dogs along park boundaries (R. Cunha de Paula pers. comm.).
The species is of no direct commercial value as furbearer due to the unsuitability of the fur which is coarse and short; however, pelts are sometimes traded as those of the South American grey fox in Argentina, and as those of the latter species and the Pampas Fox in Uruguay (Cravino et al. 1997, A. Farias pers. comm.). Current illegal trade is small as the probable consequence of low fur prices; in Paraguay, for example, no illegal fox pelts were confiscated from 1995 to 2000 (J. Cartes pers. comm.)